MY CREDIT MANAGER
Track your credit score right from your account
We are thrilled to announce My Credit Manager! Now you can access your credit score and report when you log into your online banking. Click here to sign in.
With My Credit Manager you can:
Stay on top of your credit with alerts if your score changes
Track and manage your debt in one spot, see open balances and monthly payments and more.
Utilizing My Credit Manager does not affect your credit score!
There is no cost to My Credit Manager so log in and check your credit score today.

HOW TO LOG INTO MY CREDIT MANAGER
You can log into My Credit Manager form your Desktop or Mobile App.
Click on Learn More to login.



Verify your identity
You will verify your name and address.
Input your DOB and SSN
Verify your identity with 5 questions.
If you answer the questions incorrectly after 3 attempts, the bureau will lock your score for 24 hours.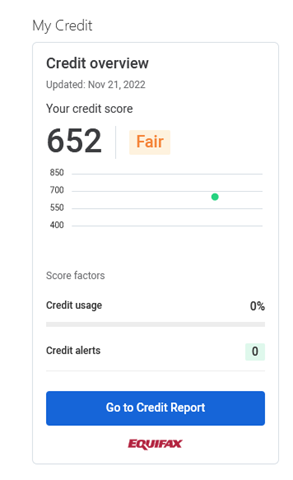 FAQs
My Credit Manager & Offers Engine
My Credit Manager & Offers Engine
Why Do Members Care About Financial Wellness?
66% of users want to know their credit score and how to positively impact it (Source: Discover Survey)
People who believe their bank cares about their financial health are 3x more likely to recommend it to friends and family. (Source: Financial Health Network, Pulse Report 2019)
Member Challenges
Want to stay abreast of their credit standing, but don't know where to start.
They don't have access to their credit score and report
My Credit Manager Product Overview
Provides members with access to a credit score and report so they always know where their credit stands.
Features
Credit Score: Members can view their credit score 24/7 from within their account. With the credit score tracker, they can see how their score has changed over time.
Debt Analysis: Members can see open loan balances and monthly payments, and even calculate their debt-to-income ratio.
Change Alerts: Members will receive notifications when their credit score or report changes, so they can rest assured that it's always accurate.
Credit Education: Members can learn about managing their credit score, keeping it in good standing, and how their score is determined.
How do our members access My Credit Manager?
Members can access their credit score and report right within their account.
Is there a cost to our members?
No, My Credit Manager is being offered to our members free of charge.
Does every person have a credit score?
Not every person will have a credit score. This may occur when someone is young or if they are new to the United States and do not yet have a loan product (for example, a credit card, auto loan). In these cases, a member may not have a credit score or report.
What is Offers Engine?
Offers Engine is a service provided by Array, that identifies if members are a right fit for a specific credit offering based on a predefined set of credit attributes. In some instances, a member may receive a digital ad for one of your credit products.